Chain conveyors
Our chain conveyors are adjustable when it comes to high-, length- and wide measurements, so many different materials can be transported. Often we use conveyor technology for the transport of pallets or similar goods. We take care of everything – starting with the planning up to the first commissioning. The chain conveyors bodies consist of massive steel profiles – the driving- and the deviation site being each a single element bolted into the housing.
The construction is user-friendly and guarantees an adaptable production and comfortable servicing. We use exclusively gear engines SEW as well as high-quality ball bearings and conveyor chains of famous German manufacturers. To be able to guarantee you high quality and flexibility, almost all metal components are produced in our company.
Roller conveyors
Roller conveyors are the classics in the conveyor technology and are used in many industrial branches. At our company, roller conveyors were developed for heavy and colossal goods, collective conveyors and a lot more. When required, these are also equipped with a load-bearing roller production, it is possible for a just or arched-shaped role guide.
The speed of the conveyors is directed by your demands, also for the length, height and width of the conveyors. Here, we also use gear engines SEW and high-quality ball bearings or conveyor chains of famous German manufacturers and produce most metal components on-location.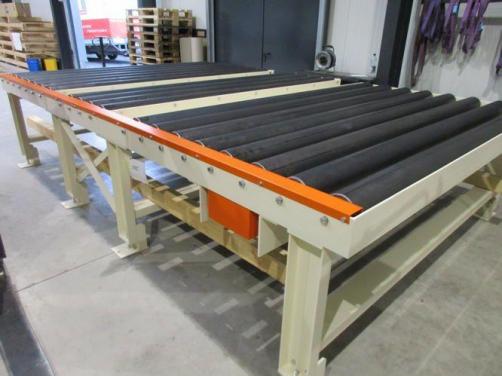 Pallet magazine
The pallet magazine PM600 consists of a robust basic framework, a vertical lifting device and horizontally moveable gripper and support arms. The movements are realized through the pneumatic drive. Rolls or recirculating ball bearing ensure a stable and harmonic service of the machine. With this conveyor technology, all the highest security and quality standards are met.
We take care of a ready-to-use planning incl. software. In the standard implementation, the pallet magazine can stack up to 600pph (palettes per hour) in the automatic service; when required implementation to 1200pph is possible. The device can be integrated into existing arrangements or be delivered with separate control.